Votes are being counted in South Africa's general election, with President Cyril Ramaphosa hoping to prevent a slide in support for the governing African National Congress.
With results declared in some 34% of districts, the ANC has won about 56% of the ballot, well ahead of the opposition Democratic Alliance on 25%.
The governing party took 62% at the last election in 2014.
Anger over the economy and corruption may have eroded its appeal.
The radical Economic Freedom Fighters (EFF), is in third place with 9%, based on the official early results.
Turnout was about 65% in the twin parliamentary and provincial elections – a drop compared to the 73% registered five years ago. Full results are due on Saturday.
Provincial results are also being highly anticipated, particularly in Gauteng, where the opposition is hoping to make inroads.
If the ANC vote drops below 50% it could lose control of the biggest, richest province to an opposition alliance, reports the BBC Andrew Harding in Johannesburg.
The ANC currently controls eight of South Africa's nine provinces.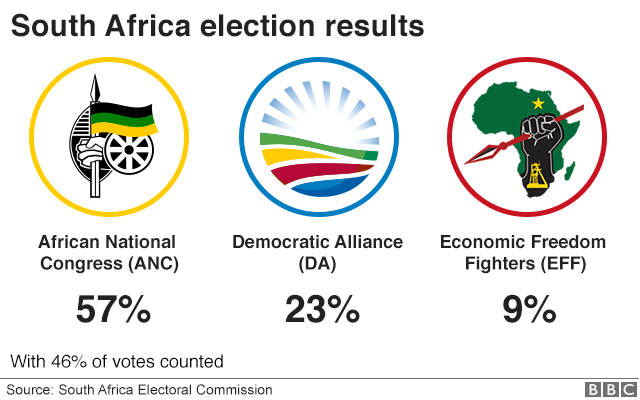 Full results are due on Saturday.
Why did the president apologise?
Casting his vote in the country's sixth democratic national election since apartheid ended 25 years ago, President Ramaphosa acknowledged the "rampant corruption" of recent years.
"We have made mistakes but we have been sorry about those mistakes and we are saying our people should reinvest their confidence in us," he said.
"Corruption got into the way, patronage got into the way and not focusing on the needs of our people got in the way."
Why has the ANC lost support?
Young people queuing to vote spoke of their difficulties in finding jobs, with unemployment at 27%.
One young voter said her future employment prospects were on her mind. "I don't feel confident about getting the job I want," she said.
"I'm a member of the ANC but I didn't vote for them this time," construction worker Thabo Makhene told Reuters news agency. "They need to catch a wake-up. The way they run the state, mishandling state funds, they've lost their morals."
However, many voters stayed loyal to the ANC.
Election in numbers:
26.76 million registered voters
55% of them are female
A record 48 parties on the ballot
28,757 voting stations
220,000 members of electoral staff
Six million young people did not register to vote
Source: BBC